Start This Feature At Its Beginning
the Partnership behind electricka'
s

web site
DCI
DCI is a for-profit corporation whose primary focus is computer and network consulting. Despite this profit-making orientation, for a long while DCI has heard a siren's call. The siren? Electricka, of course.
what electricka whispered into dCI'

s

ear

Electricka told DCI that she's a muse on a mission. Her purpose: to bring the Arts to a mass audience in new, creative, and exciting ways.

For this, Electricka needed a web site—not just any web site, but a novel one that does the Arts justice, one that fully exploits the potentials of the new information technology now sweeping the world and brings them to bear on the Arts, one dedicated to the proposition that the Arts rank high. To fulfill Electricka's mission, this new web site must:

Place technology in the service of the Arts.
Never be obtrusive or become an end in itself.
Never stand in the line of sight between the Arts and the visitor.
Not have a commercial objective as its modus vivendi.
Wring the most possible benefit from technology without compromising what Electricka stands for.
Properly respect and honor Electricka and her admirers and always place them first.

But what does a muse know about computers? Electricka whispered that she needed to enlist an agent for change who could apply the right technical skills, resources, and experience to solve her problem.

Despite the fact that Electricka's mission is atypical of a profit-oriented enterprise, after a long wait DCI finally answered Electricka's call. DCI created Exploring The Arts Foundation (ETAF) expressly for the purpose of making Electricka's dream a reality.

Today, DCI is the proud sponsor and owner of ETAF. Since ETAF is positioned as a semi-autonomous organization—one operated at arms length from its parent—DCI has little to do with ETAF's day-to-day operation.
ETAF©
Electricka's web site is presented by Exploring The Arts Foundation (ETAF©). Ours is the organization that maintains and operates Electricka's web site. ETAF is peopled by a small, energetic group of technically-proficient art enthusiasts dedicated to fulfilling the mission assigned it by DCI.
Why daring? Would you take on a challenge like this one?
This is ETAF's logo. You'll find it in the upper right corner of most of the pages at Electricka's web site, including this one: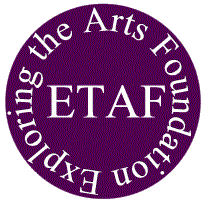 Visitors
DCI and ETAF realize that many visitors to Electricka's web site value and support the arts as much as we do. We're all caught in Electricka's grip; otherwise we wouldn't be here:
We know that you value the arts because you pull your share of the workload by donating.
We also realize that many of you who count yourselves among the curious are putting your toes in artistic water for the first time. You may not be fans just yet; for you, the arts may be no more than a passing fancy; but you deserve whatever help Electricka can give as you travel the discovery road.
Thanks to all of you for your loyalty