about scavenger hunts
Scavenger Hunt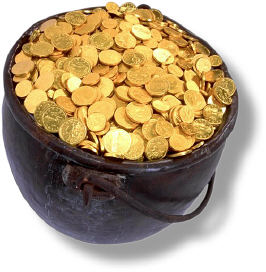 By the time scavenger hunts became popular, the public had grown weary of being poor; spirits needed uplifting. Not being able to afford to play themselves, even the downtrodden public reveled in watching and admiring vulgar exhibitions of wealth by the idle rich.
My Man Godfrey
In the depression era of the '30s, scavenger hunts were depicted in movies and were shown in "movie palaces," those exotically decorated air conditioned cinemas the public attended often to escape the reality of summer heat, winter cold, and crunching poverty. Far from having a depressing effect, for many, watching others play the game was a form of wish fulfillment, a compensation for not having the wherewithal to participate themselves. It helped them to know that the items that were scavenged were not purchased; getting them for nothing by hook and by crook made the game all the more delicious.
One of the best examples of how scavenger hunts were portrayed in Hollywood movies of that era is the delightful, superb, 1936 screwball romantic comedy, My Man Godfrey, starring William Powell as Godfrey, the ex-rich-man turned bum who later turns butler, and comedienne Carole Lombard as Irene Bullock, his fabulously wealthy and zany nemesis who falls in love with him.
Here's how it goes:
In an early scene, Irene sets out on a treasure hunt to find a "forgotten man" (a 1929 depression codeword for a solid citizen turned into a bum by Black Friday, the fall of the stock market, and the subsequent failure of the economy). A forgotten man is one of the objects hunters must find to win the treasure hunt prize; he's an item on their scavenger hunt card worth 30 points—50 to the first hunter to bring one back alive.

Godfrey, her forgotten-man-to-be, has been living at a New York City waterfront dump site with a number of other forgotten men en plein air and in makeshift shelters. Their plight is serious. They have no other place to live and soon the site will be filled in to make room for a construction project of plush, high-rise apartment buildings for the well-to-do.

At the dump, Irene stumbles on Godfrey, who suits her to a "T." To get credit for her "find," Irene must return with her forgotten man to treasure hunt headquarters, which has been established in the lobby of a posh New York hotel. They return to hunt headquarters in her car and the plot begins to twist and turn.

See a clip of the treasure hunt montage from My Man Godfrey. (Note: This clip runs seven minutes; viewing over a slow speed network connection is not recommended.): click here
Find out more about the 1936 movie version of My Man Godfrey:
See various movie reviews at the Rotten Tomatoes web site: click here.
See the movie review at the IMDb database. While you're there, click to see the movie trailer: click here.
June Allyson and David Niven made an excellent remake of the movie in 1957, demonstrating a revival of interest in scavenger hunts (or perhaps only that the original flick was good enough to justify an update).
See a user review of the 1957 remake at the IMBd web site. While you're there, click to see the movie trailer: click here.
About scavenger hunts today
Scavenger hunts are alive and well today; they're still being played, albeit not just for fun or ostentation. They're being played in new venues for different reasons:
At parties, picnics, sporting meets, and other such events.
On bus, train, and walking tours, as a way to see the sites.
Over the internet, for learning, teaching, and problem solving.
In companies, for corporate team building.
People have come with with new and innovative ways to play, ways that reach more people. For example, in one type of hunt, a team in widely separate locations plays together over the internet; it proves that it found the items on its hunt card by posting photographs of them.
A lively market has sprung up surrounding scavenger hunts. One can purchase or hire:
A caterer to organize and run your hunt.
Preprinted lists of items that your guests can scavenge for.
Toys for your younger guests to find under the couch or behind the sofa.
A scavenger hunt video game.
A limousine service to take your guests hunting.
how to play—the usual way
A traditional scavenger hunt begins at a central location, at an an event such as a house party or ballroom dance. It's a festive occasion; everybody's dressed to kill.
With a crowd looking on, previously prepared slips of paper or cards are are tossed into a bowl—could be a top hat or a champagne bucket. Each card bears a list, and each item on the list is an object or a piece of information that is to be collected once the game begins. No two lists are the same.
A deadline is declared. Contestants line up into teams and each team chooses a representative, who is blindfolded. One by one the blindfolded representatives step up and draw a slip from the bowl. After the representative from last team draws a card, the game officially begins.
Each team's objective is to collect all the items on its card and return to the party as soon as possible. An item on a card might be an object to collect (a spittoon was always good for a laugh), something to do (such as paint a moustache on a woman's face that was featured on a prominent billboard), or something to discover or know (a photo of movie stars in attendance at The Brown Derby that night might do). The appointed time is usually the witching hour—midnight—but it could be much later, into the wee hours of the morning.
When the game organizer gives the signal, the teams rush out the door. The first team to return home to the party or ballroom with all the items on its list wins. If two or more teams return with all the items, the one returning first wins. If no team collects all the items, the team with the most items wins, even if it returns later than another team that has returned before it with fewer items. A team that returns after the appointed hour is disqualified.
What prize is awarded the winning team? the honor of coming in ahead of the others.
The teams get to keep the objects they've collected and divide them among themselves or discard them. Usually, the collected objects aren't worth keeping.
The game just described was only one way to play the game. In one variation, the list of items to bring back was the same for all teams.