Start This Feature At Its Beginning
about portmanteau word of the day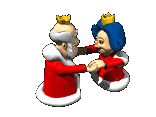 dance of the king and queen
A portmanteau word is a word formed by combining the sounds and meanings of two different words to form a brand new word with a different but similar sound and a different but similar meaning—for example, slithy, from lithe and slimy; chortle, from chuckle and snort. Portmanteau words are a lot like the dancing king and queen above. They start as two individuals who circle around each other until eventually they become a couple.
A simpler term for a portmanteau word is a blend. Simple? Yes. But there's much more to say about this simple idea.
Explore portmanteau words in depth at The Muse Of Language Arts' page called About Portmanteau Words And The Portmanteau Words Table: click here.
The king and queen circling 'round and 'round each other at the top of this page symbolize the dance of two joined portmanteau words, in which each word is connected forever to the other in an equal marriage that is neither word alone and in which each is as important as the other. The conjoined pair is dancing to the lilting strains of The Anniversary Song, a song that musically expresses this marriage.
Don't confuse The Anniversary Song with The Anniversary Waltz, as many do. The more famous Anniversary Song, written by Al Jolson and Saul Chaplin, Charlie's half-brother, which is still sung at many weddings, is an adaptation of Waves of the Danube, which was famous in its own right when it was published in the last quarter of the 19th century. The Waltz was written by a vastly underrated and today almost unknown Romanian composer named Iosif Ivanovici, a successful musician in his own day and himself a composer of hundreds of dances and other musical works.
The version of the Anniversary Song you heard when you opened this page is performed by Guy Lombardo and His Royal Canadians, with lyrics sung by Carmen Lombardo.