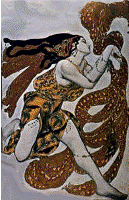 guidelines for byLine Item contributors—Lives in the arts
feature description
Lives In the Arts is a collection of biographical sketches of men and women, past or present, who have contributed to or affected the arts in a memorable way. This collection also contains sketches of former or current arts-related groups, such as those of cooperating artists, art movements, associations, institutions, and other organizations.
stop!—before you proceed...
How to submit your Bio for publication
Publishing your biography is a simple, 2-step procedure:
Read this guideline. It explains everything you need to know to prepare your bio for submission.
Fill out and submit an ByLine Item form. It explains everything you need to know to send your bio for publication.
—form—

Submit your Bio now
Note:
Electricka does not notify visitors of where and when to find the puzzles they submit:

Your puzzle will be published at Electricka's feature called Lives In The Arts.
To discover if your puzzle is published, visit the Arts Biographies Table Of Contents and look for it there: click here.
It may take a few days for your bio to appear. Please be patient and keep looking.
Examples
This feature is a collection of biographies about: 1) people in the arts, and 2) arts-related institutions.
NOTE: In this context, institutions are considered to be people, in the sense that the United States Supreme Court has ruled that corporations are entitled to the same protections under law as are people.
Examples of the kinds of men and women in the arts you might want to consider as subjects for a biography:
Creative artists in all the disciplines comprehended by Electricka's muse cohorts, such as painters, sculptors, poets, playwrights, film makers, graphic designers, still photographers, literary figures, mythologists, and musicians. Some may not have produced extant creative works in the above disciplines.
Supporting and participating personnel, such as directors, set designers, lighting specialists, camera men/women, photographers, dancers, performance artists.
Creative personalities in any field related to the muses—impresarios, philosophers, psychologists, recording technologists—anybody whose work plays or has played a prominent role in the arts. Those working in and concerned with the arts, but not necessarily making direct artistic creative contributions, such as critics, publishers, editors, philosophers, psychologists, graphic, video, or sound engineers, teachers and educators at all levels.
Examples of arts-related groups that you might want to consider as subjects for a biography:
The Bauhaus.
The Sedona, Arizona art colony.
Taliesin East or Taliesin West.
The Prado in Madrid.
The Topkapi Palace in Istanbul.
The Impressionist Art Movement.
The Nobel Foundation.
Submission requirements
Electricka invites you to submit the biography of an arts personality or institution for publication at the feature called Lives In The Arts.
Electricka is seeking biographies of the life, work, and personality of an arts personality, group, or institution that she can publish at her web site. The subject may be prominent or little-known. What counts is the artist's or institution's accomplishments, personal history, aesthetic philosophy, technique, message, impact, artistic importance, and impact on other artists, the public, culture, society, and art history.
Submissions to Lives In The Arts generally meet these requirements:
Prose.

Non-fiction.

Written in English. (Quotes or other constructions in other languages are allowed).

About a subject, topic, or theme of the author's own choosing. (Subjects taken from or related to the arts, Electricka's web site, and the muses are especially welcome.) Biographers have latitude in choice and treatment of subject.

Links to other web sites are encouraged but must be approved by Electricka.
Submitted by a visitor to Electricka's web site or by a collaboration of visitors.
Primarily in English (foreign language names or expressions or other constructions are fine, if appropriate).
Can be as short as less than 500 words or as long as several pages.
Quotations, citations, references, videos, photos, artwork, videos, film clips, animations, music, sound bites, etc. that are not original with the submitter must be properly credited.
Your biography should not contain private information or intellectual property.
Your write-up is not proprietary. One or more of the following applies:

Copyright or patent has expired or never existed.
Write-up is in the public domain; does not belong to anybody.
You own it because you created it.
You own the legal right to publish which you acquired from someone else.
You have oral or written permission from the owner to publish.

Completely finished by the author(s) when submitted. The Muse edits nothing.
If your work has a previous publication history that you want Electricka to publish with your essay, include it in the comment section of the submission form and ask Electricka to publish it there.
Your ByLine bio can be accepted for publication even if it is not written especially for this feature. It does not have to be submitted by the author(s). Electricka's policies apply.
questions?
Planning to submit? Have submitted? Address questions about this feature or this guideline to AskTheMuses@Electricka.com: click here.
---
---
This web site and its contents are copyrighted by Decision Consulting Incorporated (DCI). All rights reserved.
You may reproduce this page for your personal use or for non-commercial distribution. All copies must include this copyright statement.
—Additional copyright and trademark notices—