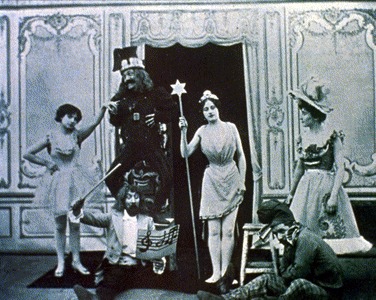 Birth of the film industry—the advent of motion pictures
—An overview of the people and events who created the film industry—
—Coming soon—

About this feature

About 4,000 years elapsed between the invention of writing on clay tablets in Sumer and Gutenberg's invention of the first practical printing press in Germany. During these years mankind made slow, irregular progress in bettering the ways it recorded and retrieved information.

Roughly 400 more years passed and bang!—suddenly the first still photo camera, the first phonograph, and the first practical moving picture camera were invented, all in the same century, the 19th.

It had taken millennia to reach this point, but a sea change was about to take hold. Things were moving fast. These three history-making recording and playback devices opened the door to what has become an explosion in the arts. And, significantly, they have led to what arguably are two of the most important cultural developments in modern times—the sound motion picture and the worldwide film industry.

In this feature, The Muse Of Film chronicles the birth of the film industry and the advent of motion pictures.
availability
Sorry, you can't view this feature now. It's under development by The Muse Of Film.
Return here periodically to see when it's available.
Happy Film-Going!
---
---
| | |
| --- | --- |
| | Now Available At Electricka's Theme Products Shop |
---
This web site and its contents copyright 2000 - 2013 Decision Consulting Incorporated (DCI).
All rights reserved. You may reproduce this page for your personal use or for non-commercial distribution. All copies must include this copyright statement.
—Additional copyright and trademark notices—