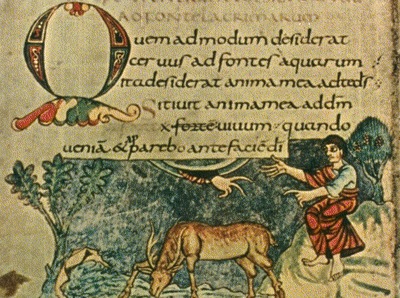 about people first name & given name equivalents
The Muse Of Language Arts is pleased to present a table of people first-name (given name) equivalents. With the help of this table, if you know a person's first name in one language, you can find the equivalent name in any one of a number of other languages. This page explains how to do this.
Search for equivalent first names & Given names.
Access the People First-Name Equivalents Table now
about this feature—about the first-name & given name equivalents table
Looking for someone whose first name is Anthony in America but not in France, but you're in France? Ask for Antoine. Looking for someone whose first name is Babette in France but you're in Germany? Ask for Else.
Whether you're actually traveling in a country where people speak an unfamiliar language or whether you're just reading about travelling, you can find out who to ask for by accessing The Muse Of Language Arts table titled People First Name Equivalents.
The Muse's People First Name Equivalents table can really help you. It lists over 200 male and female English language first names that have equivalent names in other languages. If there's more than one equivalent name for a given language, the additional equivalents are included. Alternative spellings also are accounted for.
The list of languages covered by the table includes:
Arabic
English
Danish
Dutch
Spanish
French
Greek
Hebrew
Hungarian
Irish
Italian

German
Norwegian
Polish
Portuguese
Scandanavian
Scottish
Slavic/Russian
Swedish
Welsh
Other
Names in the table are spelled with English phonemes; some bear didactical markings to assist with pronunciation. If an equivalent name exists in another language and if you read English, you'll be able to determine it's spelling and pronunciation.
Slavic/Russian languages are the sole exception because they're written with other alphabets. If you're in a country that speaks one of these languages you'll be able to pronounce the name but you won't be able to spell it in Cyrillic (Russian, Bulgarian, Serbian, and some non-Slavic languages of Central Asia).
what'
s

the first-name equivalents table good for?

The list of first name equivalents is designed to assist readers who start by knowing an English name and who want to find equivalent or related names in other languages. But since the relationships between names in various languages are reciprocal, it's equally feasible to start by knowing a name in another language and finding equivalent names in English. Or, for that matter, it's possible to start with names in a foreign language and find equivalent names in other foreign languages.

Not just name equivalents: many first names in the list are derived from words that have meanings in their languages of origin or that have devolve from there into other languages; and the list of equivalent names provides these meanings.

The first-name example in the preceding section is based on travel; but The Muse's table of People's First-Name Equivalents can help you with a variety of other uses.

For instance, if you're reading a book, story, article, or web page about a person that's been translated into your native tongue from a foreign language, you may really appreciate knowing how to refer to the person in your native tongue. If you're an author seeking to find just the right name for your fictional character, you'll be able to search the table for ideas.

Those Russian names you read about in Tolstoy, Gogol, or Dostoevsky are particularly tricky to deal with. For instance, Stella in Russian is Estelle in English or French and Estrella or Estrellita in Spanish. Probably that's not so hard. But what if you're faced with translating Natasha or Varina? What if you're facing Feodor or Fyodor?

Here's another example. If your family, friends, clients, business associates, or travelling companions are blessed with foreign names bestowed on them by relatives, you'll know their equivalents in the English language.

Or if you or someone you know is expecting a child and is hunting for possible names, you'll be able to widen your candidate name search to include names from other countries or cultures. Since many first names are derived from words that have meanings in their native languages, the list of equivalent names provides these meanings, allowing you to include the symbolism and significance of the name when you consider it.

There are numerous other situations, methods, and reasons for using the table of first name equivalents; no doubt you'll discover many of them for yourself.
How to use the People First-Name Equivalents table
The People First-Name Equivalents table is automated. You can search for equivalent first names by using your computer. That way you're less likely to overlook entries and you'll ease and speed the task of finding names and other information you're looking for. Or, you can search any part of the table by visually scanning its contents.
Use computer commands and keywords to find equivalent first names by their meanings or significance, language, or gender. Sort, print, change page size, or otherwise process names you find, the contents of entire pages, or the entire table.
Understanding and using columns:
Click a column name at the top of the table to sort the contents of the column. For example, click Gender to see all the male names first, followed by all the female names. Click Gender again to see all the female names first, followed by all the male names. All column's can be sorted in this manner.
The Meaning column provides a definition for the first name. The definition explains what the name means in the language where it originated.
The table contains a language column for each of the following languages: English (American or British), Spanish, French, Italian, German, Slavic/Russian, Irish, and Scottish. The language columns are in no special order.
The Other column contains equivalent first names for languages other than those for which language columns are present in the table. If an equivalent first name exists in another language, the name of the language is noted.
how to Find the equivalent first names table
To find equivalent first names, access the People First-Name Equivalents Table and follow the directions in the preceding section on How To Use The People First-Name Table.
Access People First-Name Equivalents Table now: click here.
a few precautions
The number and variety of extant first names is enormous. Capturing all of them and capturing them correctly would be an overwhelming task:
Many different versions of a given first name appear in a given language or concurrently in different languages.
Some name translations between languages may be etymologically questionable.
Other translations vary historically, so that a name equivalent that is sound in one language or era is tenuous, dubious, or non-existent in another one.
An untold number of first names have been devised throughout history, and additional ones exist today in hundreds of contemporaneous languages, as well as in thousands of dead or little-known languages.
Male and female versions of the same name further complicate matters, as do abbreviated names, nicknames, spelling, alphabetic, and other linguistic differences.
These and other factors make it impractical—even undesirable—for The Muse Of Language Arts to attempt to offer a complete, exhaustive, or even authoritative first name list of equivalent names. But fortunately, The Muse Of Language Arts' equivalent first names table does not have to be exhaustive to be useful.
Here, The Muse seeks to provide a quick, easy-to-use list of the most common first name equivalents encountered in the English language and in other modern Western languages, a list that is fundamentally valid for most practical applications. Hopefully, the typical audience will find it a good, reliable starting point (if not the optimal ending point) for establishing the bulk of frequently encountered first name equivalences.
If you require a more authoritative or complete list of equivalent first names, The Muse recommends that you consult standard etymological sources.
---
ETAF recommends
...Coming.
---
---
This web site and its contents are copyrighted by Decision Consulting Incorporated (DCI). All rights reserved.
You may reproduce this page for your personal use or for non-commercial distribution. All copies must include this copyright statement.
—Additional copyright and trademark notices—