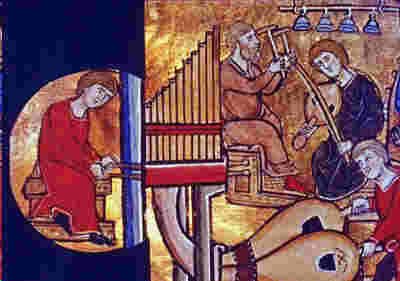 lili marlene—page 2
how lili marlene became a song
Many people have the impression that Lili Marlene was heard by troops in both World Wars. That isn't the case. The song began as a poem that was first published in a 1937 collection of poems by Hans Liep called The Small Seaport Organ.
The collection came to the attention of a man named Norbert Schultze, a professional composer. Schultze frequented a local musician's union where numerous fellow artists often met after work. One day on a visit there he was asked by a bass singer he was acquainted with to write a few shanties for a radio broadcast. To start him off, the singer gave Schultze a copy of Liep's collection.
Schultze set ten of the poems to music and played them for his singer friend. The friend, however, was disappointed; he considered the music to be too soft, too lyrical, "for little girls." the singer had thought of something more vigorous, rather coarse, "for men."
Schultz was famous for composing politically inspired operas, film scores, marches, songs, and lyrics. He decided that the Lili Marlene poem might be good grist for the Nazi propaganda mill and set it to music. He promoted it at the Ministry of Propaganda but Joseph Goebbels, the infamous Nazi propaganda minister, disliked the song because it wasn't set to a march tempo.
Schultze then offered the song to a number of publishers and record companies but nobody took him up on it. One individual thanked him for the manuscripts and congratulated him on the song Lili Marlene, but that was all. The cards seemed stacked against Schultze; nobody liked his idea for a war song. Finally he gave a copy to an old friend from the thirties, a person named Wilke. At the time Wilke was engaged to a woman named Lale Anderson, the singer who ultimately cut the record. But Lale, too, balked at singing it; and then the man who was supposed to promote it for radio broadcast rejected it.
Despite all the objections, Lale Andersen introduced the song on the radio on the night of November 9, 1938 while Schultze was occupied with managing the premiere of one of his operas and conducting a new ballet at the Hamburg State Opera. This was the same night the Nazis were setting synagogues on fire, devastating Jewish shops and murdering innocent people in what became known as Crystal Night.
Lale recorded the song just before war broke out. The record, which was produced by Electrola, scarcely found any buyers. As propaganda it was a flop. It sold only 700 copies in 1938. Then came August, 1941 and the Belgrade radio broadcasts to the Afrika Corps.
about hans leip
Hans Leip was born 1893 in Hamburg. He was a prolific writer and illustrator, with over eighty books and 3600 pictures, drawings, and designs to his credit.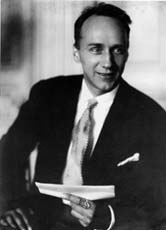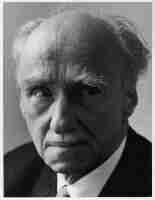 Heading for a career as a teacher, he was 21 years old when war broke out. In the German army, he experienced a bad fall and was hospitalized. Because of his injuries, at the end of 1915 he was relieved of his military obligation. He used his long stay in the hospital before his release to write his poem, Lili Marlene. His was an ideal time of life at which to express the sentiments it contains.
After the war Leip dedicated himself to painting, drawing and writing. His first novel, Godekes farmhand, in 1925 was a commercial success and is thought to be his strongest work. He continued to write books and poems, paint, and draw throughout WWII in Germany. He was married several times. He is most famous for his poem, Lili Marlene. He spent his last years in Switzerland and died there just before his 90th birthday in 1983.
about Norbert Schultze
Norbert Schultze was born in 1911. His life spanned the time of the imperial monarchy, the Weimar Republic, WWI, Hitler's dictatorship, WWII, and the post war period. He died in 2002.
He was one of the most successful and best paid German film composers. After World War II he was banned from pursuing his profession for several years. After being subjected to denazification, he resumed working and built a new career as a renowned film and television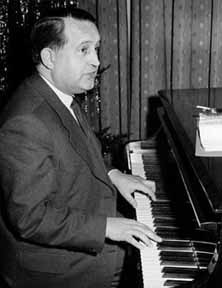 composer.
In his varied career, Schultze played in cabarets, conducted a choir, composed political and non-political operas, composed ballets and quartets, conducted classical music orchestras, performed on the solo piano, coordinated recording productions for the Telefunken record company, wrote music for advertising commercials, wrote background music for films, theater, and television, and much, much more. The quality and nature of his work has been compared to that of two of his more famous compatriots, Erich Korngold and Max Steiner, who made names for themselves in Hollywood.
For the public, there are two songs in particular that reveal the polarity of Norbert Schulze's life and work as a composer: the song Lili Marlene, written in 1938, and the marching song Bombs Over England, which he set to music in 1940.
Schultze was recruited for military service and was slated to enter the infantry when war broke out. It was 1939 and he expected to be called up any day. But unknown to him, it turned out that he had long since been on the so-called "Führer's list." What a stroke of luck! Schultze was exempt from conscription for the duration of the war.
How could such a thing happen? Previously Schultze had helped Goering, Hitler's head of the Luftwaffe, by writing the score for a documentary. As previously mentioned, he had set to music the text of the patriotic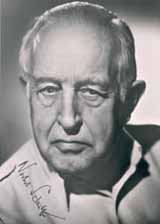 piece called Bombs Over England. One of the lines: "Comrade! Comrade! All the girls must wait!" For this accomplishment, an underling in the propaganda ministry who was unknown to Schultze had found him worth keeping as an artist for the German people. The catch: from then on he had to serve the Third Reich not only as an artist but also as a propagandist. This he did.
After the war, he resumed his life in music and gained a national reputation for his work in film and television. From 1973 to 1992 he was a deputy member of the executive board of the German Composers' Association where he worked to help his colleagues. His final days were spent in Mallorca.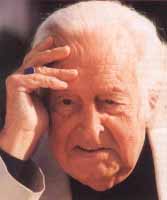 55 years after Bombs Over England Schultze wrote in his memoirs, "Every time I hear this song today I am cut to the quick. What? You actually composed this? It often tortures me for days and I cannot sleep owing to my terror and shame—even today."
Read an excellent summary of Schultze's life and works by Karl Heinz Wahren publshed in the German Composers' Association (GEMA) News:
Schultze died in 2002, an indication of just how current this story is. Credit for writing a song in which a lyricist and a composer collaborate normally goes to the composer. On that basis, credit for the song should go to Norbert Schultze.
About Lale Andersen
Lale Andersen, nee Liselotte Helene Berta Bunnenberg, was born in 1905 in Bremerhaven. Because of her association with Lili Marlene, she was very popular with the German soldiers, and became known as "the Angel of the soldiers."
She was not popular with the Nazis, however; they forbade her from singing the song or performing it on stage.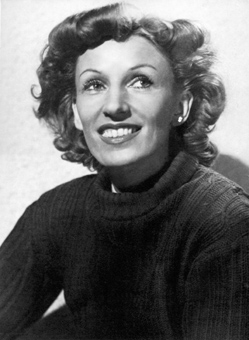 She married Rolf Libermann who was Jewish, with whom she spent the rest of her life. Because of her marriage to Liberman she was persecuted by the Nazi regime. At the end of the war she was found in a bombed hospital.
After the war she continued her career in Germany, where she had a number of other hits. She became rich from Lili Marlene royalties and retired in 1961. She died in 1972.
In 2001 Irene Langemann directed a German language movie about her life (with English subtitles) called, not surprisingly, Lale Andersen, The Voice of Lili Marlene.
About Marlene Dietrich
Maria Magdalene Dietrich was born on December 27, 1901, the second child of Lieutenant Louis Erich Otto Dietrich and Wilhelmina Elisabeth Josephine Felsing.
She became famous in Germany for her singing and for her movie roles, one of the most famous of which is The Blue Angel, in which she played the character of Lola, a dance-hall girl who drove a distinguished, stuffy professor to the most extreme humiliations in the name of love. Her acting performance and her sultry interpretation of the song Falling in Love Again catapulted her to fame around the world.
In 1935, Adolf Hitler demanded that the famous German actress return to the Fatherland. Dietrich, an ardent anti-Nazi, refused. Her films were banned in Germany. Dietrich became a naturalized United States citizen and devoted most of her energy during World War II to entertaining Allied troops.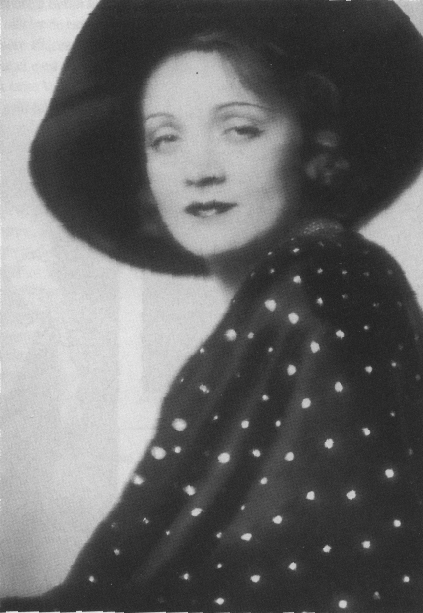 Marlene Dietrich in The Blue Angel, 1930
Her major claim to fame during World War II was her work with the USO. There is no doubt that she made a major contribution to the morale of the troops. During the Africa & Italy campaigns, she endured much privation in order to stay with the troops at the front, where she not only entertained but helped coordinate hospital and mess details. In the French & German campaigns, she often rode with General Patton at the front.
Her vehement denouncement of the Nazi regime and her participation in Radio broadcasts aimed at Germany irritated the Nazis, to say the least. For her work, the U.S., French and Israeli governments awarded her medals.
She went on making movies until the 1980s, most in Hollywood. She died in 1992.
Marlene was known for her rendition of Lili Marlene, which she repeatedly sang for troops at the front. (There is no connection between her first name and the last name of the woman in the song.)
Marlene sang a softer version of the song that was different from Andersen's and she devised a special verse of her own which she sang for the troops along with the other lyrics.
Here's Marlene's original lyric:
...When we are marching in the mud and cold, And when my pack seems more than I can hold, My love for you renews my might, I'm warm again, My pack is light, It's you Lili Marlene, It's you Lili Marlene...
More About Lili Marlene
For more information about Lili Marlene, visit these web sites:
---
ETAF Recommends
...Coming.
---
---
This web site and its contents are copyrighted by Decision Consulting Incorporated (DCI). All rights reserved.
You may reproduce this page for your personal use or for non-commercial distribution. All copies must include this copyright statement.
—Additional copyright and trademark notices—