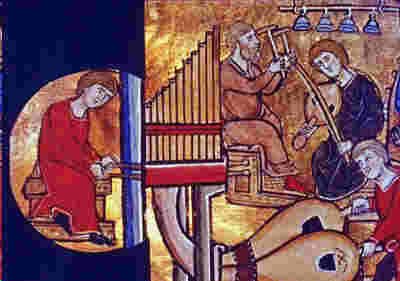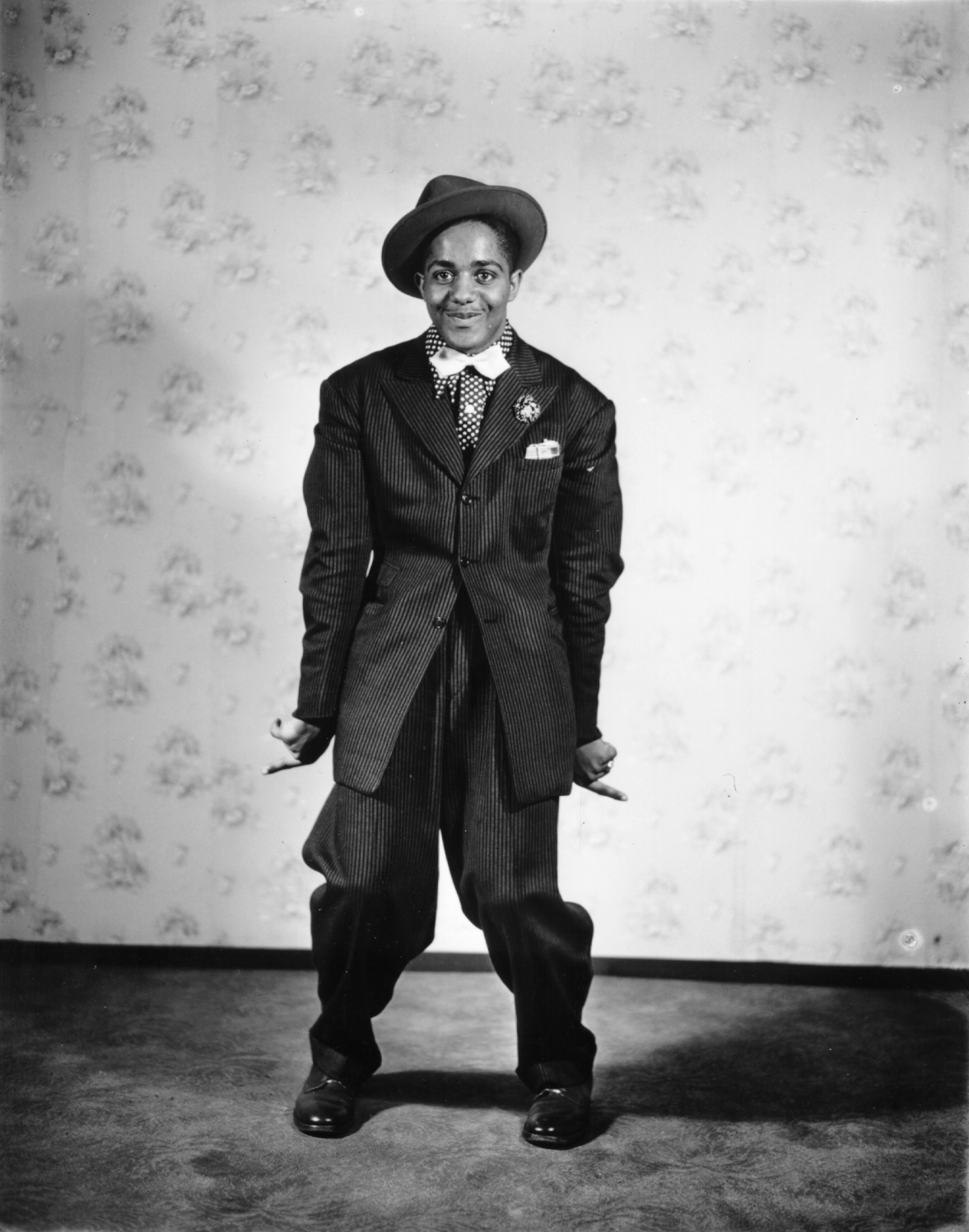 An anonymous entertainer jitterbugging alone on stage wearing a zoot suit costume. Notice the extended forefingers.
zoot suit—Page 2
The song A Zoot Suit (For My Sunday Gal) was an integral part of the Big Band era, when it was cool to be cool in America, but only in certain circles. The vast majority of "circles" varied from conservative to ultra conservative. Most of America was square. There were many more "not cool" people than cool people. The differences between them gradually caused friction, which heated up until it boiled over into the streets of wartime Los Angeles. A succession of riots lead to some deaths and many arrests, rapidly bringing to a close this brief, tragic, but colorful period in American history.
The mentality behind A zoot Suit (For My Sunday Gal) was an integral part of the zoot suit scene. What mentality did the song and the suit give voice to?
zoot suiters—the men, the women
At core, zoot suiters were rebellious outcasts, young minority groups who believed themselves victims of social suppression and unfairly-treated social rejects. They resented the culture that had cast them out and were determined to defiantly flaunt what made them different. Their odd manners and dress were symbols of defiance calculated to prove the worth of their own values and way of life. Their peculiar manner of speech—their jive talk—echoed in the zoot suit song, was a flag that signaled their differences; it was meant to distance those who didn't belong, as was their flamboyant style of dress.
Zoot suits were popularized and promoted chiefly by Mexican Americans, African Americans, Puerto Ricans, Italian Americans, and Filipino Americans during the late 1930s and 1940s. The style is thought to have originated in El Paso, Texas during the 1930s. Hence, many chicanos or Mexican Americans refer to El Paso as El Chuco.
The Zoot suits, with their yard-long key chains, high-wastes, wide lapels, wide legs, tight cuffs, and glistening shoes, were not merely articles of clothing or a style of dress; they were a symbol of an outré lifestyle and of all the divisive issues that simmered beneath the surface of daily life. Many of the men who wore them believed that they had been isolated from society through no fault of their own; they felt caught in a world they believed was not as cool as their own.
The Mexican American male zoot suiters called themselves pachucos (in Salvadoran culture chuco means dirty). They spoke their own dialect of Mexican Spanish, called Caló or Pachuco. Mexican American woman who dated zoot suiters or who had similar feelings about their lives sported their own version of a man's zoot suit and called themselves pachucas. These women often wore a V-neck sweater or a long, broad-shouldered coat, a knee-length pleated skirt, fishnet stockings or bobby socks, platform heels or saddle shoes, dark lipstick, and a bouffant hairdo. Sometimes they donned the same style of zoot suit that their male counterparts wore. With their striking attire, pachucos and pachucas constituted a new generation of Mexican American youth.
Etymologists believe that he word zoot is a rhyming compound based on the word suit. It was part of their Caló slang that stemmed from the Mexican Spanish pronunciation of the English word suit with the s sounded as z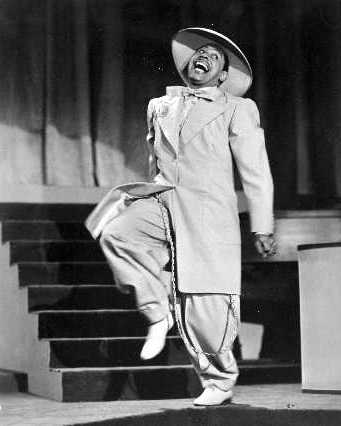 Cab Calloway performing in a Zoot Suit
the zoot suit
The zoot suit and A Zoot Suit were statements of these views, and more. In effect, the zoot suit was a party costume worn on the streets or at weddings, galas, and dances—anywhere flamboyant dress-up was acceptable. And the Big Bands were part of this celebration, the source of the Swing they danced to.
Why have a good time when the nation was at war? Many Zoot suiters had a nasty little secret that gave them something to crow about: they were accidentally or deliberately overlooked by draft boards because of their immigration status. Many others were classified 4-F, the draft board designation for physically, psychologically, or morally unfit for service.
True, many zoot suiters did not escape the war's impact. In time the draft caught up with some, while others eventually volunteered. Some served with distinction, fought, were wounded, or died. And most had hard-working families at home to worry about or brothers and sisters in the military.
But the bulk of zoot suiters had good cause to believe themselves immune from the kinds of bad news that was filling newspaper pages. theycould care less about who just won or lost a major battle in far away Europe or Asia or whether the tide of war might soon be turning in favor of the U.S.. theywere largely oblivious to such matters.
Moreover, they had good reason to believe that living conditions for them would remain the same after the war. They were bored and had little else to do but party; so what did they have to lose by having a ball?
For reasons like these, as a social class Zoot suiters were cool at a time when cool was out (not in) for the rest of the nation. They were young, second-class jive cats who were out of work at a time when factories were buzzing full-time and out of uniform when twenty million men were fully committed to war.
But others in America did have something to lose. For America, the age of the flapper was dead and gone forever; the U.S. was now reeling from the double blows of depression and world war. Garish fabrics and bright colors were out; blacks and grays and olive drab were in. This was no time for a block party as far as the rest of the country was concerned; this was a time to wear black.
The full-length jackets and sleeves, the copious folds in extra-long baggy pants and cuffs, were making the wrong statement at the wrong time. It was bad enough that cloth was rationed. Far worse, mothers were sewing blue and gold stars on small blue and white pennants hanging in frontroom windows, each star a sign of a son or other family member killed or wounded in the Service. To the rest of the nation, zoot suits were a symbol for outrage.
the zoot suit riots
Both sides resented each other and clash among the factions was inevitable. It wasn't long before the zoot suit style of dress, which had started in the late 30s among Mexican Americans, African Americans, and Italian Americans as a symbol of social unrest, evolved into a street gang fashion.
The zoot suit was not worn by everyone; one estimate puts the figure at twenty-to-thirty thousand. But that was enough to foment trouble. In 1943, for ten days a series of so-called Zoot Suit Riots broke out in Los Angeles between white servicemen, civilians, and police on one side and Chicano zoot suiters, on the other, culminating in arrests and trials, some on trumped up charges.
At their height, the riots involved several thousand men and women fighting with fists, rocks, sticks, and sometimes knives. This succession of altercations, which came to be known as the Zoot Suit Riots, led to property and bodily damage and many arrests, but no deaths. Outrage and police crackdowns rapidly brought to a close this period in American history.
Explore the Zoot Suit Riots at the Wikipedia page on the subject: click here.
—note—

the truth and nothing but the truth

These events are still controversial and sensitive in some circles. The full truth may be hard to find, even after all these years...and in part because of all these years.
the Zazous
Zoot suiters were not alone; they were not the first subculture to express their feelings of rebellion and individuality through their dress, and they will not be the last. One outstanding example comes from the Zazous of WWII France, a group of rebellious Parisian youth who balked at the the restrictions imposed on their free-living life style by the Nazi occupation and the Vichy regime.
Surprisingly, the word Zazou probably was inspired by Cab Calloway, the famous American Black Jazz artist. Here's the story of how this happened:
Parisian youth were jazz and swing music fans long before war came to France; Jazz was alive there when the Germans took over the city. From their parents they knew about the Black jazz scene that had sprung up in Montmartre during the inter-war years when Black American entertainers, who felt freer in Paris than they did back home, had entertained their parents there.

Cab Calloway had been a prominent entertainer during his protracted sojourn in Paris in the years between the two World Wars. He'd appeared in Montmartre and at many other night spots. The French were familiar with American Zoot Suiters and Zoot Suits through the music Calloway and other American entertainers had played and the Zoot Suits he and some of the others had worn.

The Jazz scene lingered long after the Americans left. French musicians like Stephane Grappelli, who'd learned Jazz from Black entertainers during the '20s, were actively recording and playing their brands of Jazz in cabarets; Gypsy musicians like Django Reinhardt, who soloed and teamed with Grappelli, helped keep Le Jazz Hot alive by recording and playing swinging jazz music in Parisian boîtes.

Then, early in 1942, a popular French crooner named Johnny Hess released a song called Je suis swing in which he sung the lines Za zou, za zou, za zou, za zou ze.

Hess's lines were strongly reminiscent of a line in a song often sung by Calloway called Zah Zuh Zaz. The song spoke to them of the wild times and the good old days when Paris once was free.

That's all the Parisian youth needed; it set them on fire. theycoined the word zazou, which recalled the title of Calloway's song, and named themselves after it. (Notice the phonetic resemblance between zah zuh and zazou.) They patterned their style of walk and dance after American Zoot Suiters and their style of dress after the Zoot Suit. Cab and his Zah, Zuh, Zaz had coalesced and set in motion the Zazou movement.

A staged cast picture of a modern French play about zoot suiters that depicts the essence of the WWII Parisian Zazou lifestyle.
The costumes in the photo are unrealistically exaggerated for theatrical purposes and do not accurately represent clothing styles worn on the street; the fabrics, cuts and colors are too colorful and ornate. But the costumes make an effective point about real Zazou clothing styles and the effect their wearers wanted to achieve.
The Zazous of WWII had created a subculture in France that was inspired by zoot suiters in America during World War II, but their cause was different. During the German occupation of France, the fascist Vichy regime, which had collaborated with the Nazis, had forced an ultra-conservative morality down their throats. It had enacted a battery of laws aimed against what ultraconservative Frenchmen saw as a restless and disenchanted youth. The Zazous expressed their resistance to this oppressive regime through their nonconformity.
For the most part, Zazous were simply young Parisians asserting their individuality. theydid this through a variety of means. They held aggressive and combative dance competitions, sometimes brazenly inviting German soldiers and making them victims of their aggression. They wore excessively big or garish clothing modeled after American zoot suit fashionry at a time when clothing was rationed. And, like zoot suiters, they danced wildly to swing jazz and bebop.
The amount of material used to make a suit, which was as excessive as possible given fashion and clothes rationing, made a comment on Government decrees rationing clothing materials. Men wore extra large lumber jackets, which hung down to their knees and which were outfitted with many pockets and several half-belts. Their trousers were narrow but gathered at the waist. Their ties, which were made of cotton or heavy wool, also were gathered. Their shirt collars were high and kept in place by a horizontal pin. They favored thick-soled suede shoes and white or brightly-colored socks, and their hairstyles were greased and long. They frequently wore sunglasses, perhaps to symbolize that they were looking the other way where the Nazi occupation was concerned.
Zazou women also wore garish clothing—short skirts, striped stockings and heavy shoes; and they and often carried umbrellas, perhaps to symbolize the metaphorical rain that was falling on their lives. They wore their hair in curls that fell to their shoulders or was braided—blonde was a favorite color—and they wore bright red lipstick. Ladies wore sunglasses and sported jackets with extremely wide shoulders like their male counterparts; or they wore short, pleated skirts. Their stockings were striped or sometimes netted, and they wore shoes with thick wooden soles.
Hear and see Calloway sing and perform Zaz Zuh Zaz in two separate recordings (The Muse thanks YouTube):
See him in a montage of several different movie performances. The accompanying music is his 1933 recording of Zah Zuh Zaz: click here.
Notice his scat, bebop, dance steps, zoot suit, and the panache feather in his zoot suit hat. The lines near the song's end must have had a special appeal for the Zazous. It goes: There's no need for them to be blue/'cause zah zuh zaz will always see them through.
A Zah Zuh Zaz performance filmed in 1934 at the Cotton Club in Harlem, uptown New York City. Notice the mock up of the 1930s vintage TV set: click here.
More About Zoot Suits and zoot suiters
Explore more about zoot suiters and the zoot suit era. Visit these other web sites:
Visit the WTTW11 page at the web site for the PBS the American Experience television series called the Zoot Suit Riots. See historic pictures of suits being worn by zoot suiters in the 1940s when the suits were in. See other original photographs from the era. Visit the PBS web site page about the Zoot Suit Riots produced by the American Experience television series: click here.
Learn more about the zoot suit, its origin, style, and history, at the Wikipedia page on the subject: click here.
---
ETAF Recommends
Read the critically-acclaimed play called Zoot Suit. Zoot Suit is written by Luis Valdez, whom some call the best playwright on the Mexican-American stage. The play is based on the Zoot Suit Riots of 1940s Los Angeles and the celebrated Sleepy Lagoon murder case of the time. Explore the mores and attitudes of the people of that era.
Then try the 1982 movie based on the Valdez play, also called Zoot Suit. Zoot Suit is directed by Luis Valdez, the playwright himself, and stars Edward James Olmos, one of the foremost Mexican-American actors of our time, and the writer-director's brother, Daniel Valdez.
From left to right, below, a movie, a play, a book that concentrates on the riots, and a book that concentrates on the legal aftermath of the riots. The fifth book focuses on Zoot Suit women, their culture, and their lives.

Look for French books about the Zazoo at Amazon: click here.

Paris night life, Jazz, the French-Black experience, the American (Harlem)-French connection, and the exciting years between the wars are well documented. There are far too many good books on the subject to do all of them justice here. To catch up on the subject, your best bet is to look for yourself at Amazon or at any good book store.

There's one in particular, however, that's especially apt. Not only does it cover the usual subjects and more; it explores the WWI experiences that led to the between-the-wars scene, early WWII-era topics such as Le Jazz Hot and the Zazous, and the impact of this history on Jazz afterward. It's thorough, clear, and easy-to-read. ETAF recommends Harlem in Montmartre: A Paris Jazz Story Between the Great Wars by William Shack.

See the Zoot Suit movie, a filmed version of the famous play, with a sensational performance by its star, Edward James Olmos, when he was a brooding actor just beginning his screen career.

Olmos plays a wild, flamboyant, hectoring, all-seeing figure called El Pachuco, a Greek chorus with an attitude. Zoot Suit is a landmark Latino work directed by Luis Valdez, an important figure in Chicano theater. Valdez based his acclaimed play on the zoot-suit riots of 1940s Los Angeles, when a group of young Chicano men were railroaded into jail on a murder charge.
---
---
This web site and its contents are copyrighted by Decision Consulting Incorporated (DCI). All rights reserved.
You may reproduce this page for your personal use or for non-commercial distribution. All copies must include this copyright statement.
—Additional copyright and trademark notices—