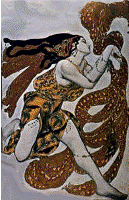 guidelines for arts information contributors—arts tidbit of the day
Submit Your Arts Tidbit Now
feature description
A tidbit is a delicate bit or morsel of food; a choice or pleasing bit of anything, such as news or gossip. An arts tidbit can range from a little known fact to a major, well-known idea; it can be a modest original thought you just had or a conceit of rabid invention. Whatever it may be, an Arts Tidbit is about the arts and the wider environment that gives them their context.
Arts Tidbits can be original (of your own invention) or taken from or inspired by virtually any source—a piece of literature, a song, a lecture or text book, something an artist or other personality has said or done, a magazine, a speech, and event in the news, a television program, an amateur recital or play—almost anywhere. They can be about current or upcoming events or about pieces of history. They can be serious or comic, deep or superficial. They can be useful or of no practical value. They can be tips or hints—things to do or things to avoid.
Tidbits vary in intent and effect. They may:
Treat almost any aspect or subject in the arts.
Arm visitors with ideas for finding what they want to know about the arts.
Alert visitors to what has been going on in the world of the arts.
Instruct about something worth knowing about the arts, however significant or minor.
Amuse or titillate.
Inform, educate, or advise.
Remind visitors about something about the arts they may have forgotten or overlooked.
here are a few examples of tidbits to start you on your way
Electricka invites you to submit a tidbit that you feel would be interesting to Electricka's visitors and help them get more out of their contact with The Muses.
Here are a few samples of arts tidbits. They may give you an idea for a tidbit of your own:
Orson Welles thought Chimes at Midnight to be his best work. Today, Chimes is largely overlooked, and for good reasons; but his first movie, Citizen Kane, is known around the world and is thought by many to be one of the best movies ever made. Who can explain it?
Aaron Copland, who studied and wrote classical music, started young, at age 15; but not until he was age 36 did his music change so that it would have meaning for a large U.S. public audience. His most popular works were written in the brief 10-year period from 1936 to 1946. Thereafter, he stopped writing this type of music altogether. After he stopped writing his new kind of American music, he summed it up with these words, "I no longer feel the need of seeking out conscious Americanism."
When Napoleon discovered that his troops were wiping their noses on their uniform sleeves, he ordered that buttons be sewn on their sleeves to discourage the practice. His orders worked because a button up the nose is no fun. That is why buttons are sewn on the sleeves of men's coats today. Besides discouraging their use as a handkerchief, today buttons serve no purpose other than decoration.
In German and Scandinavian mythology, the erlking is the king of the elves, a spirit or personified natural power that works mischief, especially to children. Schubert used the myth to compose an art song of the same name that is one of the best, most gripping art songs ever written.
Dr. Seuss (born Theodor Seuss Geisel), the world famous writer and illustrator of children's books, worked for Warner Brothers Animation Studios during World War II, where he wrote movies for the war effort. He served with Frank Capra's unit of the U.S. Army Signal Corps, where he made cartoon training films for American soldiers. In that capacity, he created a famous cartoon character known as Private Snafu to educate and boost the morale of the troops.
In the vernacular of the Broadway theater, an Annie Oakley is a free ticket to a theater or a pass. Why? It is called that because such tickets are punched to prevent resale. Once punched, they resembled the playing cards used as targets by Annie Oakley, the famous American Wild West sharpshooter, whose offstage name was Phoebe Anne Oakley Mozee. The musical Annie Get Your Gun is based on her life.
stop!—before you proceed...
How to submit your arts tidbit for publication
You are being asked to write and submit an arts tidbit for publication by Electricka. Your write-up should be a brief description of a single tidbit drawn from the field of the arts that you believe would be of interest to Electricka's visitors. Your arts tidbit will be published at Electricka's feature called Welcome To Quote Of The Day.
Publishing your description is a simple, 2-step procedure:
Read this guideline. It explains everything you need to know to prepare your quote for submission.
Fill out and submit an Arts Information form. It explains everything you need to know to send your arts information for publication.
—form—

Submit your arts tidbit now
Note:
Electricka does not notify visitors of where and when to find the arts information they submit:

To discover if your arts information submission is published, visit the feature called Arts Tidbit Of The Day and look for it there: click here.
Electricka publishes the arts tidbits she receives in order of receipt. Since she displays only one arts tidbit a day, it may take many days for your tidbit to appear. Please be patient and keep looking.
submission requirements
Submissions to Arts Tidbits generally meet these requirements:
About the arts.
When you report the facts on which a tidbit is based, you have the option to express your personal opinion or comments about the facts. If you add them, clearly indicate which part of the tidbit is objective and which is not.
Multimedia optional.
Links to other web sites must be approved by Electricka.
Written at least in part by a visitor to Electricka's web site or by a collaboration of visitors.
Primarily in English (foreign language names or expressions or other constructions are fine, if appropriate).
Short, sweet, and to the point. Less than about 50-500 words. As short as a sentence or as long as a few paragraphs.
About a subject, topic, or theme of the author's own choosing. (Subjects taken from or related to the arts, Electricka's web site, and the muses are especially welcome.)
100 percent original with the author(s) except for properly credited quotations, citations, references, videos, photos, artwork, film clips, animations, music, sound bites, etc.
The facts or information on which your tidbit are based should not contain private information or intellectual property. One or more of the following applies:

Copyright or patent has expired or never existed.
Tidbit is in the public domain; it does not belong to anybody.
You own the legal right to publish information you acquired from someone else.
You have oral or written permission from the owner to publish.

Completely finished by the author(s) when submitted. The Muse edits nothing.
Your Arts Tidbit can be accepted for publication even if it is not written especially for this feature. It does not have to be submitted by the author(s). Electricka's policies apply.
questions?
Planning to submit? Have submitted? Address questions about this feature or this guideline to AskTheMuses@Electricka.com: click here.
---
---
This web site and its contents are copyrighted by Decision Consulting Incorporated (DCI). All rights reserved.
You may reproduce this page for your personal use or for non-commercial distribution. All copies must include this copyright statement.
—Additional copyright and trademark notices—
Exploring the Arts Foundation