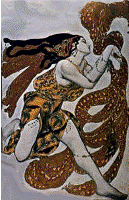 Arts Tidbit of the Day
Each day Electricka displays a tip, fact, or quip drawn from and about the arts.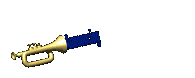 today'
s

tidbit

—about this feature: click here—
about this feature
A tidbit is a delicate bit or morsel of food; a choice or pleasing bit of anything, such as news or gossip.
The origin of the word tidbit demonstrates how right Electricka is to choose tidbit as the name of this feature. Tidbit is derived from the British word tide, meaning feast day, and bit, as in a small piece or quantity of anything. Thus, to the British, a tidbit is a morsel so choice you are grateful to eat it on a day of feasting even though it is tiny, and even though everyone else is cramming down mouthfuls of plain, old food.
The British derivation of tidbit just about sums up the purpose of Electricka's Arts Tidbit Of The Day, which to to present each day a small but juicy piece of news or information about the arts. As the name implies, Arts Tidbits are refreshed daily; each day you visit this page you will find a new one. This is what makes every day an Arts feast day.
---
Publish your own arts tidbit
Arts tidbits are created by Electricka's visitors or ETAF Staff.
Electricka invites you to submit your own Arts Tidbit Of The Day for publication here. So long as it's compatible with Electricka's guidelines, it doesn't matter whether it's been published before or whether you write it especially for this feature.
To find out more or to submit your work, consult Electricka's page called Guidelines For Arts Information Contributors—Arts Tidbit Of The Day: click here.
To encourage you to write and submit your own original arts tidbit, The Muse has declared Arts Tidbit Of The Day an Arts Information feature.
For more information about this and other Arts Information Features, visit the Arts Information page at this web site: click here.
---
about across the muses
Today In The Arts is an Across The Muses feature.
Explore other Across The Muses features. Learn more about them. Visit Electricka's page called Welcome To Across The Muses: click here.
---
---
This web site and its contents are copyrighted by Decision Consulting Incorporated (DCI). All rights reserved.
You may reproduce this page for your personal use or for non-commercial distribution. All copies must include this copyright statement.
—Additional copyright and trademark notices—