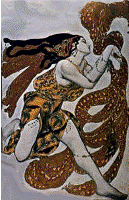 policies—accreditation
Electricka gives justly-deserved credit to the creators and sources of the sights and sounds you see when you visit pages at this web site. On this page, Electricka explains the policies, practices, and methods ETAF uses to give proper credit to the people and works referred to on these pages.
Electricka and ETAF acknowledge their debt to those who have given of themselves through the years for the betterment of the arts and for the benefit of those who follow the arts. They join all followers of The Muses in thanking them.
artistic credits & sources list
To accredit is to ascribe, attribute, designate, consider as belonging to, or to provide with credentials. In other words, to accredit is to give credit for something done. In the context of this web site, to accredit is to give credit to, name, and identify the artistic materials and sources referred to in the pages of this web site.
Many different skills have gone into the creation of these sources; all the arts are included; and many, many creative personalities have labored in these vineyards. Included are virtually all different kinds of media, including quotations, citations, references, photos, artwork, film clips, animations, music, and sound bites.
Credit is given in two different ways and places:
Centralized

Some artistic credits and sources are listed at Electricka's page called Artistic Credits & Sources. There, resources that are referenced at one or more pages of Electricka's web site are named and described. Each artist credited with creating a resource is named and the provenance or source of the named work is given. Links that take you to each page at this web site where the resource is used are supplied.

These kinds of credits and sources tend to be those that require formal credit or provenance statements in order to comply with Fair Use provisions of copyright law. They also include important citations that are not affected by Fair Use and some citations that appear at more than one page.

Visit the Artistic Credits & Sources page now: click here.

Decentalized

Some artistic credits and sources are cited on the page where they occur. These kinds of resources tend to be those for which a formal credit it not required by Fair Use provisions as well as some citations that do not appear at more than one page. Some of these citations appear in both a short form on the page where they occur as well as in a longer form at the Artistic Credits & Sources page.
policies and practices
ETAF's accreditation policies and practices:
To be listed, a work must be an original artistic creation. What is art? ETAF staff will use its best judgment to decide.

We often do not give credit for works created specifically for this web site by ETAF Staff.

If a visitor contributes a creative work and requests to remain anonymous, the published material will so note.

Ownership and copyright claims for a listed work will be cited if known.
We do our best to give full accreditation, but it is not always feasible to do so for a variety of reasons:
The originator's identity, provenance, ownership, or copyright for a listed work may be shrouded in obscurity or may simply be unavailable anywhere to anyone, even if a work is extant. If this is the case, we simply cannot provide this information.

In some cases a work's origin or provenance may have been established elsewhere than at ETAF but, despite diligent research, ETAF cannot uncover them. ETAF's policy in such cases is to use the work without benefit of attribution.

ETAF and Electricka provide origin and provenance information whenever we can reasonably uncover them, but if we cannot uncover them after due diligence, we publish anyway:

ETAF and Electricka find repugnant the idea that art cannot be exposed to the public and must be suppressed merely because it cannot be identified.

At the same time, we cannot be responsible for uncovering everything about everyone.
If you know the origin or provenance of a work we have not been able to fully credit, send us the information and we will gladly add it to our list of credits.
---
---
This web site and its contents are copyrighted by Decision Consulting Incorporated (DCI). All rights reserved.
You may reproduce this page for your personal use or for non-commercial distribution. All copies must include this copyright statement.
—Additional copyright and trademark notices—