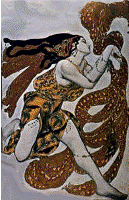 Artistic Credits & sources
Here Electricka gives justly-deserved credit to the creatorArtistic Credits And Sourcess and sources of the sights and sounds referred to at this web site.
Electricka and ETAF acknowledge their debt to those who have given of themselves through the years for the betterment of the arts and for the benefit of those who follow the arts. They join all followers of the Muses in thanking them.
about this list
This Credits & Sources list identifies the sources of the creative works cited on Electricka's pages.
Electricka takes seriously the job of giving credit for merit and work accomplished. Valid and complete attribution benefits both the creator of a work and its audience...More.
How to use this list
Scroll up or down until you find an artist, performance, work, or source that interests you.

Alternately, place your cursor in the box containing the List and use your browser's FIND command to locate a specific credit.

The Where/How Used column shows the page on which a source is used. If a source is used on more than one page, it shows all the pages where it is used.

The name of the page on which a source is used is a link to that page. There is a link to each page on which a source is used. Click a link to visit the named page.
Artistic Credits & sources
| | | | | |
| --- | --- | --- | --- | --- |
| Credit No. | Origin, Originator, or Identity of Listed Work | Where/How Used | Medium or Format | Provenance |
---
---
This web site and its contents are copyrighted by Decision Consulting Incorporated (DCI). All rights reserved.
You may reproduce this page for your personal use or for non-commercial distribution. All copies must include this copyright statement.
—Additional copyright and trademark notices—
Exploring the Arts Foundation