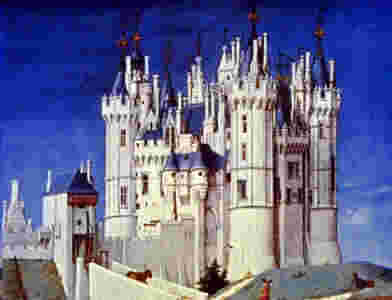 the Pulitzer Prize for Literature
Visit The Pulitzer Prizes web site

See present winners for all prize categories

See Past winners
Pulitzer Prizes are awarded yearly for contributions to the fields of journalism, photography, letters, drama, and music. Prizes for letters include fiction, history, drama, history, biography or autobiography, poetry, general nonfiction, and general nonfiction. Special Citations for other genres or arts or for other kinds of contributions and achievements are awarded as circumstances dictate.
Here we are principally concerned with prizes for fiction, drama, history, biography or autobiography, poetry, and general nonfiction; and tangentially we're concerned with prizes for journalism, music, et al.
About joseph Pulitzer
Joseph Pulitzer (photo at right) was an Hungarian-born newspaper publisher of the New York World and the St. Louis Post-Dispatch in the latter years of the 19th century. He led a dramatic life that ultimately led to his becoming a self-made millionaire and the owner of a publishing empire. His 1904 will made provision for the establishment of the Pulitzer Prizes as an incentive to excellence.
About the Pulitzer Prize Board and the granting process
Prizes have been awarded since 1917. In a far-sighted move, Pulitzer provided for an overseer advisory board to administer the award process and gave it power to suspend or to change any award categories. At its discretion, the board may grant or withhold an award when entries fall below its standards of excellence. Today, this independent board makes all the decisions relative to the prizes.
Nominees for awards are submitted by the public to over twenty juries composed of over 100 specialists in the fields for which awards are granted. Each year more than 2,000 entries are submitted, from which only twenty-one awards are made. Juries evaluate specific contributions made by nominees and submit their selections to the board for final approval. The board can overrule their recommendations.
A formal announcement of the prizes is made each April by the president of Columbia University.
Background and history of the pulitzer prizes
Originally focusing on journalism, literature, and classical music, the board has shown a willingness to adapt to changing times. For example, it now recognizes work being done by newspapers in online journalism, and the scope of the music awards has been broadened to include jazz and other forms of popular music.
The Pulitzer Prizes are among the most prestigious awards of their kind, especially in journalism, letters, and music. It is to be expected, then, that many decisions of the board have been unpopular, especially since the board has not curried favor with the public when making decisions and because it has a reputation for conservatism and independence. For example, many of the books it has honored have not appeared on bestseller lists, and many winning plays have been staged off-Broadway or in regional theaters.
This approach to making grants has proved a two-edged sword: many fine artistic contributions have been overlooked, even after being recognized and recommended by juries—for example Ernest Hemingway's For Whom the Bell Tolls and Edward Albee's Who's Afraid of Virginia Woolf?
Read more about the Pulitzers, their history, and their founder. Explore an online database containing information about award winners, their prize-winning creations, and other related subjects. See many of the photos, cartoons, and articles produced by award winners.
Award Category variance
At the discretion of the board, categories may vary from year to year. In recent years, the following awards were granted in categories related to literature:
For distinguished fiction by an American author, preferably dealing with American life.
For a distinguished book upon the history of the United States.
For a distinguished biography or autobiography by an American author.
For a distinguished volume of original verse by an American author.
For a distinguished book of non-fiction by an American author that is not eligible for consideration in any other category.
For a distinguished drama. (The award goes to a playwright but production of the play as well as script are taken into account.)
This list does not represent current awards; but if you compare it with the current award list it will give you a rough idea of how much past and future awards can vary. To get a better idea of how much awards can vary, explore the list of Award Winners And Finalists By Year that follows in the next section.
award winners and finalists by year
A succinct name-by-name, prize-by-prize list of awards, awardees, and finalists is available at the Pulitzer web site:
Submit a nominee for an award
Why leave it up to others to nominate a candidate for a Pulitzer when you can do it yourself?
ETAF-Recommends
Who's Who of Pulitzer Prize Winners by Elizabeth A. Brennan and Elizabeth C. Clarage. The Oryx Press.
---
---
This web site and its contents are copyrighted by Decision Consulting Incorporated (DCI). All rights reserved.
You may reproduce this page for your personal use or for non-commercial distribution. All copies must include this copyright statement.
—Additional copyright and trademark notices—