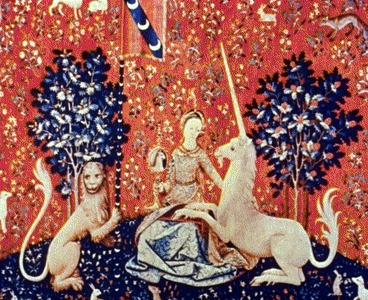 the Muse of Mythology Welcomes You
In these pages The Muse of Mythology delves into myths and mythic mysteries. The Muse also examines fairy tales, legends, fables, and other fanciful genres.
At the right, the Gorgon Medusa, whose head was severed by the Greek demigod Perseus. According to this myth, the severed head had the power of turning into stone all who looked upon it.
what Are myth and mythology?
Myth and mythology are often-misunderstood terms.
Strictly speaking, a myth is a traditional or legendary story, often ancient, usually concerning some being or hero or event, with or without a determinable basis of fact or a natural explanation. A myth is often concerned with deities or demigods and explains some practice, rite, or phenomenon of nature.

A mythology is a body, collection, or group of myths belonging to a people. The myths in a group usually have something in common. A mythology deals with a people's origin, history, deities, ancestors, and heroes. It may be about a particular person or a collection of gods or other creatures. Three examples: the body of myths surrounding Hercules; Greek mythology; Roman mythology. The term mythology also describes the science or study of myths.
In this feature, The Muse explores these two subjects: myth and mythology.
A myth is the creature of the society that spawns it. The story it tells can have one or more objectives. A myth can:
Help explain nature.
Help make sense of a confusing world.
Teach lessons about how to live in the society that spawned it.
Convey the values, beliefs, and history of a society.
close, but no cigar—What isn'
t

myth
At the left, Spiderman caught in a spider web, from the comic book stories about the fictional character, Spiderman.

Is a Spiderman movie or comic book a myth, legend, fantasy, or fairy tale? Is it fiction or fable? Find out at The Muse's page titled Myth And Its Cousins: click here.

Find out more about the true nature of myth at the feature titled Understanding Myth And Mythology: click here.
the importance and value of myth
Myths and mythology are often underrated by scoffers, yet mythology plays a vital role in the affairs of man today, as it has done since the dawn of time. Why are myths undervalued today? Should they be?
understanding Myth and mythology
Until fairly recently, trying to understand the truth behind myth has felt something like being caught in a web—most of us can't figure out why we're there and yet we can't let go of the subject. Luckily, late last century there occurred a revolution in mankind's understanding and appreciation of the subject that's changed all that.
Now, at last, we have some answers. The Muse Of Mythology invites you to explore this important development and share in what these discoveries have taught us. In a way, this experience is a little like discovering what it means to be human.
At The Muse Of Mythology's page called Welcome To Understanding Myth and Mythology, you can find out what myth is all about, find what myth really means and what it's telling us.
comparative mythology
Comparative mythology is the field of study that seeks to derive general principles from a comparison and classification of disparate mythologies by examining their content, growth, influence, and common origins.
Here are a few sidelights from the field of comparative mythology. Did you know:
The muses—one of our favorite topics—and other fabulous creatures are mythological creatures, beings right out of the field of comparative mythology?

In the feature called Comparative Mythology, The Muse Of Mythology delves into such subjects as the nature of muses and nymphs. The Muse explores topics like:
The Muse Of Mythology invites you to join in an exploration of this intriguing, rich, and immensely rewarding field. Dare to tread where strange and exotic gods and goddesses lurk. Visit familiar and unfamiliar lands, myths, fairy tales, legends, and fables.
Visit The Muse Of Mythology pages on comparative mythology: click here.
---
tops & flops
At the Electricka's feature called Tops & Flops In The Arts, see lists of mythology favorites and lists of other top-10s that have been submitted by visitors to Electricka's web site, including lists of their favorite writers and works of literature. There, visitors can also submit their own lists of favorites for other visitors to see at Electricka's web site.
Explore mythologies, myths, and prominent mythical personalities; get ideas for works or authors to read. See lists of cultures and mythoi and lots more that's of interest. Visit the feature called Tops & Flops In The Arts now: click here.
---
ETAF recommends
...Coming.
---
—tip—

the muse of Mythology wants your complete attention

Visit The Muse Of Mythology Index for a list of all the sections belonging to The Muse of Mythology: click here.
---
---
This web site and its contents are copyrighted by Decision Consulting Incorporated (DCI). All rights reserved.
You may reproduce this page for your personal use or for non-commercial distribution. All copies must include this copyright statement.
—Additional copyright and trademark notices—