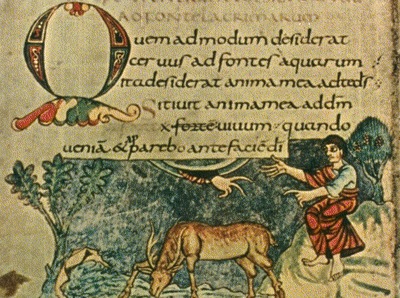 the Muse of Language Arts Welcomes You
In these pages, The Muse Of Language Arts explores the miracle and power of language.
Language Arts defined
What are the language arts? The Muse defines the language arts in these three steps:
—note—

About the poll on this page

The poll about animal-human communication at the right, below, is about whether animals and people can converse in a meaningful way. This is a subject to have fun with, but it is not a trivial one. Hanging upon your answer are fundamental issues concerning human nature, the purpose and function of language, evolution, and man's relationship to all living creatures, past and present.

The Muse hopes that you will consider the matter carefully before you check your answer box and urges you to make a comment that will help others form an opinion.

If you're in doubt, exploring The Muse Of Language Arts feature called Interspecies Communication In The Arts may help you arrive at an answer.
an appreciation of the language arts
As much as we hear language praised for its benefits to mankind, man's capacity to use language is an often overlooked and underrated faculty. Perhaps we tend to take our ability to speak, write, and talk for granted because they are everyday phenomena. Like air, sky, and water, language is all around us; we hardly notice it. Yet where would we be without it?
Linguists claim that language sets man apart from all other forms of life. Archeologists and anthropologists have cited mankind's ability to speak as a leading reason for modern man's ascendancy over the other animals of the earth, even over other hominids. Some point to man's ability to speak as the underlying reason for his ascendancy over his now-once-formidable foe, Neanderthal man, although the jury is still out on whether Neanderthals were capable of speech.
about this feature
Where does The Muse take this exploration?
The Muse Of Language Arts is interested in all aspects of the language arts—using language to read, write, speak, listen, hear, translate, and understand. The Muse is especially interested in:
The art of using language correctly and incorrectly, especially English, but not limited to English.
The human faculties involved in language.
The science and theory behind using language to communicate among people.
The act and process of writing, that is, using linguistic symbols to communicate.
Intra-species communication, interspecies communication, and what they mean for the language arts.
Begin Here
Now join The Muse Of Language Arts in an exploration of the miracle and power of language and the language arts. Begin by clicking one of the features named in the To Do box in the upper right corner of this page or in the Related Pages box on the page below it. You may also click the feature names listed below:
---
Technical Aspects Of Literature
The technical aspects of any written work are its properties and techniques as seen from a literary and language perspective.
All writing incorporates and is made up of technical elements like meter, form, sound (rhyme), and figures of speech. Techniques and language elements like these are common to all fields of writing; all writers use them, deliberately or subconsciously. Any particular work can by analyzed, understood, described, and classified by the combination of the writing elements it incorporates.
In this feature, The Muse Of Literature explores writing and writings from a technical and design point of view—structure, organization, tone, style, language constructions, and all the other technical aspects that make for coherent, expressive, and effective writing, or its opposite. The Muse places the technical aspects of Literature under a reader's magnifying glass, but writers will want to take a look, too.
Explore The Muse Of Literature's feature called Technical Aspects of Literature: click here.
---
about tops & flops in the arts
At the Electricka's feature called Tops & Flops In The Arts, see lists of language arts favorites and lists of other top-10s that have been submitted by visitors to Electricka's web site, including lists of their favorite topics in the field. There, visitors can also submit their own lists of favorites for other visitors to see at Electricka's web site.
Explore language arts topics and lots more that's of interest to readers like you. Visit the feature called Tops & Flops In The Arts now: click here.
---
ETAF Recommends
There are a great many books about the language arts. Here are a few that are in the ETAF-Amazon Collection.
...Coming.
ETAF recommends Writing Right:
Writing Right is an ETAF app product that makes it easy to catch and correct all sorts of writing mistakes. Fix them while you are writing or editing. It also helps you to a better writing style.

The Writing Right White Paper is a free white paper that explains the theory behind Writing Right.
---
—tip—

the muse of language arts wants your complete attention

Visit the Language Arts Muse Index for a list of all the sections belonging to The Muse of Language Arts: click here.
---
---
This web site and its contents are copyrighted by Decision Consulting Incorporated (DCI). All rights reserved.
You may reproduce this page for your personal use or for non-commercial distribution. All copies must include this copyright statement.
—Additional copyright and trademark notices—
Exploring the Arts Foundation