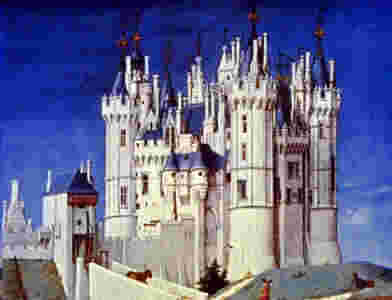 Welcome to the Poetry Corner—Read Poetry or publish your poem
In these pages, The Muse Of Literature invites you to revel in poems and poetry.
Here, you may:
Read or download poetry selections written by masters, connoisseurs, professionals, amateurs, and aspiring artists.
Read or download original poetry written by Electricka's visitors, some written especially for publication by The Muse, some republished here.
Submit original poems of your own for publication.
read or download a poem now
Scan or scroll down the list of poems, below, to see all works in the collection.
To read a work online in your browser, click its title.
To download a poem, right-click its title and click Save target as... on the window that opens.
publish your own poem now
Poems
Title

Poet
Comments

References and Links

Dulce Et Decorum Est
Wilfred Owen
Anti-war, WWI.
See Wilfred Owen's biography
Naming of Parts
Henry Reed
Anti-war, WWI.
Five Short Poems
Chris Modzelewski
From the life of an Electricka visitor.
Loveliest of Trees
A. E. Housman
An example of The Muse's method for approaching a poem applied to A. E. Housman's well-known poem. First The Muse analyzes the poem; then you do.
The Windhover
Gerard Manley Hopkins
An example of beautiful and not-so-beautiful sounds that rhyme.
it was not death
Emily Dickenson
An account of the poet's abject hopelessness, misery, and depression. Illustrates that in poetry rhyme patterns are a form of composition.
She Walks in Beauty
Lord Byron
A lyric poem of incomparable beauty.
What It's Like to be an Aviator
Jonathon Livingstone
A visitor's love poem about romance.
Bella's Desire
anonymous
A visitor's love poem to Bella.
Mother's Touch
Charnjit Singh Saini, alias Charnjit Patialvi
A visitor's poem depicting the attachment of a child to its mother and how the mother is important to him.
Lyrics to German national anthem from 1871 to 1918. German with English translation.
God Save the Queen
William Hixton (aka Hickson)
Alternative 1846 non-belligerant lyrics
God Save the Queen
Lyrics approved in 1919 by the British Privy Council and published for the first time in 1925 in the hymn book titled Songs of Praise. Popularly known as the Peace Version.
God Save the Queen

Lyrics to God Save the Queen (standard English version). English lyrics only with accompanying music.

God Save the Queen
Lyrics to God Save the Queen (standard English version). English lyrics without music.
Gott erhalte Franz den Kaiser (aka the Kaiser Lied)
Lorenz Leopold Haschka
Original lyrics for Franz Joseph Haydn's Kaiser Song.
Hail to Thee in Victor's Garlands (aka Unity and Rights and Freedom)
August Heinrich Hoffmann von Fallersleben
Lyrics to Hail to Thee in Victor's Garlands, written in 1841 by August Heinrich Hoffmann von Fallersleben, written to be sung to the music from Franz Hadyn's Kaiser Song. German lyrics with translation to English.

In 1848 these lyrics became part of the song Unity and Rights and Freedom which became the national anthem for Prussia and later for Germany until post WWI.

Deutschland, Deutschland über alles
August Heinrich Hoffmann von Fallersleben as modified by the Nazi party
Lyrics of the Anthem of Nazi Germany written to be sung to the melody of Franz Joseph Haydn's Kaiser Song. Song includes Fallersleben's lyric to Hail to Thee in Victor's Garlands as modified by the Nazi party from 1922 until the end of WWII in 1945. German lyrics with translation to English
Deutschlandlied (Song of Germany)
August Heinrich Hoffmann von Fallersleben as modified
Lyrics to The Song of Germany, today's German National Anthem, written to be sung to the melody of Franz Joseph Haydn's Kaiser Song. Lyric includes part of Fallersleben's original lyrics to Hail to Thee in Victor's Garlands. German lyrics with translation to English.
This Marriage
anonymous
A short, sad reflection on marriage sent in by a visitor.
Walking Without a Direction
Breonte Hackley
A visitor's rap poem about the poet's regretful past and his hope for personal growth.
...Coming
---
Publish Your poem at the poetry corner
Have you written an original poem that could be published here? Want to share it with the world?
The Muse Of Literature invites you to submit your original poem for publication here. It doesn't matter whether it's been published before or whether you've written it especially for publication here.
Nor does it matter what sort of poem you write. You don't have to be a professional writer. Your age doesn't matter. Your work doesn't have to be a masterpiece. You don't have to meet any prerequisites or have any special qualifications. Just be a visitor to Electricka's web site who has composed a poem alone or in collaboration with someone else.
You may even submit someone else's original poem so long as its not the work of an established amateur or professional poet, live or dead.
Join the ranks of the likes of Wordsworth, Byron, Coleridge, Keats, Shelley, Eliot, Frost, Plath, Dickenson, Stevens, Rothke, Duffy, Angelou, and hundreds of other published poets:
To learn more or to submit your poem for publication now, see the guidelines for ByLine Item Contributors—The Poetry Corner: click here.
To further encourage you to write and submit your own original essay on this subject, The Muse has declared this feature a ByLine feature.
For more information about this and other ByLine Features, visit the ByLine page at Electricka's web site: click here. Or click the ByLine image in the column at the right.
---
ETAF Recommends
Here are some outstanding anthologies of poems you may want to consult. What makes an anthology outstanding? Factors such as the number of poets, the choice of poems selected for each poet, notes, comprehensiveness, and layout (line numbers, etc.).
—tip—

nomenclature tells a tale

In the world of poetry, the word anthology customarily denotes the works of a variety of poets or of a variety of poetic subjects, such as groups of poems organized by form or period. The word collection customarily denotes the collected poems of a single poet.

On this page ETAF is recommending only anthologies.
The Best Loved Poems of the American People, edited by Hazel Felleman with an introduction by Edward Frank Allen. A classic. In print seemingly forever. Nothing but high quality poetry. Emphasizes poems written in the 19th century. No Shakespeare and no Blake, but many, many of the greatest, most popular, most important poems in the world.
World Poetry: An Anthology of Verse from Antiquity to Our Time, edited by Katherine Washburn, John S. Major, and Clifton Fadiman. An excellent collection of world poetry is not easy to find, but this one is just that. Fadiman, a world-class authority on literature, is a definite asset.
This book is not just a compilation; it's editing is a creative and innovative coup. For example, the ancient and the contemporary are seamlessly interwoven. When you turn to the Dante section, instead of finding excerpts from well-known versions of the Commedia, there are selections by poets such as Shelley, Howard Nemerov, Susan Mitchell, and James Schuyler. Another example: the editors scoured the archives for versions of poems that would stand as poems on their own. When nothing met their standards, they commissioned new translations.
Norton Anthology of Poetry, edited by Margaret Ferguson, Jon Stallworthy, and Mary Jo Salter. Many of the best poems in the world up to the time of printing. Pricey but probably the most comprehensive poetry collection in the English Language. Excellent notes.
Modern American Poetry and Modern British Poetry, edited by Louis Untermeyer. Untermeyer is a recognized authority on poetry. As you would expect from someone as competent as him, the commentary that accompanies the poems is first class.
Good enough to use as a textbook because it contains so many 20th century poems, which is unusual for an anthology like this one. Emphasizes the first half of the 20th century, although it does contain some 19th century works. The sad news: It's out of print, but it's well worth buying used.
Making of a Poem: A Norton Anthology of Poetic Forms, edited by Mark Strand and Eavan Boland. Not just an anthology; it's also a rare example of an exploration of poetic forms. It presents and analyzes groups of poems organized by their poetic structure and chronology, such as the sonnet, the ballad, the sestina, the villanelle, the pantoum, blank verse, and the stanza.
Each editor writes an introduction. Strand is a male American and Boland is an Irish female; and both are among our best poets. This combination of editors with these backgrounds makes for a top notch introduction to the subject matter.
The book also contains a section which explores poetic structures established not by a specific rhyme or metrical pattern but by content; and other sections on open forms; on the history of form; and on contemporary forms. A chronological anthology of poems demonstrates each particular form. In the sonnet's case, for example, there are 23 brilliantly chosen examples from the sonnets of Shakespeare's and later poets.
Also see ETAF's recommendations for books on understanding poetry. Visit The Muse Of Literature's page called Welcome to the World of Poetry: click here.
---
---
This web site and its contents are copyrighted by Decision Consulting Incorporated (DCI). All rights reserved.
You may reproduce this page for your personal use or for non-commercial distribution. All copies must include this copyright statement.
—Additional copyright and trademark notices—
Exploring the Arts Foundation