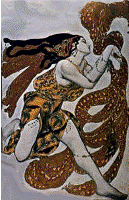 the world of Arts Games & Gaming
Here, for the benefit of all game enthusiasts everywhere, Electricka peeks through the window that looks out on the world of arts-related games and gaming.
about the world of games & gaming
What is a game? A game is an amusement or pastime, a competitive activity involving skill, chance, or endurance on the part of two or more persons who play according to a set of rules, usually for their own amusement or for that of spectators.
By this definition, the world of games and gaming is huge, its scope mind-boggling.
the state of the art in arts gaming
By the term arts-related game, Electricka means a game with theme or content drawn from the arts.
Up to now, most games and gamer interest has been concentrated on subjects like war, crime, adventure, gambling, sports, or fantasy. Little attention has been paid to games whose subject matter is taken from the arts. For the most part, these are games unrelated to the arts.
about this feature
Electricka collects information about arts games and gaming from visitors and publishes it here. Her Staff also make contributions to this subject in these pages. Why should Electricka sponsor a feature in which visitors explore the world of arts games?
the arts games information clearinghouse
Electricka believes there should be more art in games. To help bring this about, she has created The Arts Games Information Clearinghouse and designated it a focal point for the collection and dissemination of information about arts-related games and the world of arts games and gaming. The purpose of the Clearinghouse is to help create change favoring the arts in the world of arts games and gamers.
Its goals are to:
Facilitate information exchange among gamers and gaming institutions interested in furthering the arts thorough gaming or furthering gaming through the arts.
Encourage appropriate agencies and individuals to increase the number and quality of games about the arts.
Provide information that will improve the public's access to arts-related games.
Stimulate interest in arts-related games and gaming among those who now follow the muses and among those who do not follow the muses.
Change for the better the way gamers and gaming institutions think of and treat the arts.
Electricka urges everyone interested in playing games and the promoting the arts to join in.
Send Electricka your information about arts games and gaming now
Know about a personality, event, game, or something else that's noteworthy in the world of arts games and gaming that you can share with other visitors? Are you personally involved and what to publish news about what you or others are doing?
the world of crossword puzzles
From the perspective of the arts, Electricka insists, crossword puzzles are special kinds of puzzles, exercises in the language arts. Therefore they are the province of The Muse Of Language Arts. Since Electricka's boss, she gets her way in the matter of who handles what, as in all things. Together, they explore the world of crossword puzzle games and gamers.
Publish your original arts-related puzzle or quiz
Electricka hopes that everyone interested in games, from art devotees to neophytes, will create an original arts-related puzzle or quiz; she encourages them to submit their games for publication in these pages.
To encourage visitors to publish their original arts-related puzzles and quizzes, Electricka has declared the Arts Puzzles feature and the Arts Quizzes feature ByLine features. Electricka suggests that you explore the guidelines for these features now.
For more information about this and other ByLine features, visit the ByLine page at this web site:
Electricka'
s

puzzles and quizzes—play now

Electricka offers games and other diversions, including a wide variety of puzzles you can solve and quizzes you can take. Some of these games have been created by visitors, others by ETAF Staff.
Happy Gaming!
ETAF Recommends
...Coming.
---
---
This web site and its contents are copyrighted by Decision Consulting Incorporated (DCI). All rights reserved.
You may reproduce this page for your personal use or for non-commercial distribution. All copies must include this copyright statement.
—Additional copyright and trademark notices—