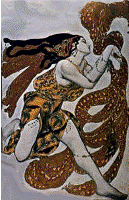 Guide to navigation—top menu
The Top Menu is the horizontal menu located near the top of almost every page at Electricka's web site. Its purpose is to provide an overview of major sections of the entire web site and to allow you to move from one major section to another.
There is only one Top Menu at Electricka's web site. Its contents are the same no matter what the page on which you find it.
Links to some pages at Electricka's web site cannot be found on any other menu. For example, the Top Menu is the only menu that lists Electricka's Policies pages. To reach Polices page, click ETAF on the Top Menu and then click Policies on the drop down menu that appears.
Navigation between pages located in different major sections of Electricka's web site is often best accomplished by means of the Top Menu in conjunction with other menus. For example, it's easy to move from pages that belong to one muse to pages that belong to another muse:
Click the Muses on the Top Menu. A menu appears that lists the names of Electricka and all her cohort muses.
Next, find the name of the muse to which the target page belongs on the menu that drops down and click. The home page of the target muse will open.
When the home page of the target muse opens:

Hover over the muse menu for that muse to see a menu of pages that belong to the muse. Find the name of the target page is on the muse menu and click. The target page will open.
Or click the name of the target page in a link in the Right Column menu of the Muse's home page.
—tip—

lost in space?

If you become lost at this site, look for a top menu. It contains links to the home page, where you can go to start over. It also contains links to other pages you may recognize.
---
---
This web site and its contents are copyrighted by Decision Consulting Incorporated (DCI). All rights reserved.
You may reproduce this page for your personal use or for non-commercial distribution. All copies must include this copyright statement.
—Additional copyright and trademark notices—